Ruffles add an instant wow factor to any cake or cupcake. Master several techniques, including piped ruffles, relaxed ruffles, textured ruffles, upward and downward ruffles, ruffled flowers, and everyone's favorite — ombre ruffles!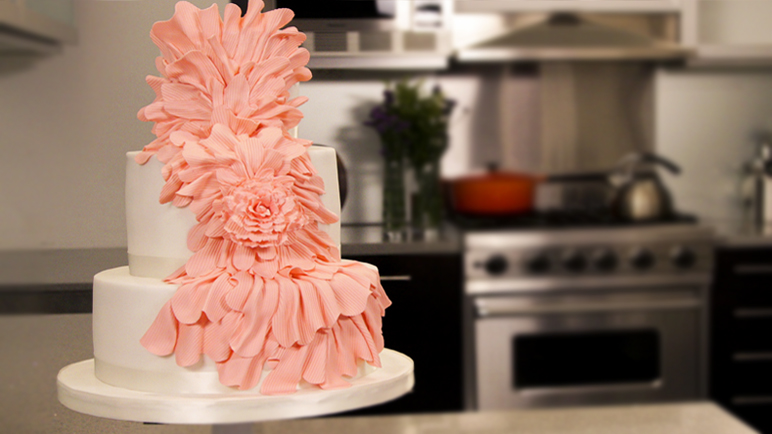 Overview
Ruffles are one of the most versatile cake decorating techniques around, as acclaimed cake artist Karen Vazquez demonstrates in this comprehensive course. Begin with the basics — piping sweet buttercream ruffles onto cupcakes using different types of piping tips — and graduate to the advanced method of creating upward and downward fondant ruffles for a gorgeous cascading effect, perfect for tiered cakes. In between, you'll learn how to make relaxed or "wave" fondant ruffles; how to color fondant into the perfect shades for an ombre effect; how to make ruffled fondant flowers, and how to texture ruffles. You'll learn how to customize ruffles to be flat, frilled, loose, or tight; how to use them diagonally, horizontally, and vertically; and how to fashion them into different shapes. Along the way, Karen shares tons of helpful hints about everything from making a buttercream that withstands any temperature and adjusting it according to humidity and altitude, to filling in a section of cake you over-carved and tweaking your buttercream recipe to create ruffles that won't wilt. She even shares her trick for using leftover fondant to cover a cake board. And those of you in the business (or who would like to be!) won't want to miss her advice on pricing and selling specialty cakes.
Reviews
Carmen Caraballo

Excellent and well explained. Will take other courses with Karen if you offer them.

Komal Sabnani

I loved it...

Luis Marchany

Awesome class!!!!

Michelle Beauregard-Bauer

Loved this class!! I HIGHLY recommend purchasing this. Karen is just wonderful, she's thorough, goes at the right speed, explains everything nicely & you'll pick up some great new tricks :)

Vivian r Jaile

I found it very very informative ... Old technics new ways to implement them, the execution on her cakes sate immaculate...

Linda Noblett

bogged down in over explaining and fishing too much for words for technical terms Had to take a break will watch the rest at later date Cup cake was very over explained would be great for beginning baker

Maria Mendoza

This was an amazing class. I learn a lot of new things. Amazing teacher, very we'll presented. She gave a lot of tips.

Lissette Gomez

Excellent!

Linda Renaud

very complete course. tons of info and well explained. Just as good as Craftsy courses but more complete.

Brenda Pierce

Lovely way to use ruffles on cakes!

Ellen Makin

Beautiful, unique, and Karen Vazquez is generous in sharing her knowledge.
Lesson Plan
Lesson 1: Meet Karen Vazquez

4:20

Meet cake artist Karen Vazquez and learn about the tools and ingredients you'll need to work alongside her as she teaches you how to make all different kinds of ruffles, both buttercream and fondant.

Lesson 2: Perfect Buttercream

31:47

Karen shows you how to make the buttercream she uses in her custom cake shop — one that needs no refrigeration and can stand up to heat, giving you complete confidence that your cakes won't wilt when you hand them off to clients. She provides in-depth instructions on adjusting the recipe according to your climate and altitude and also provides tips for achieving the exact shade you want when dyeing buttercream.

Lesson 3: Piping Ruffles on Cupcakes

40:49

Karen reviews best practices for filling and using a piping bag as she teaches you how to pipe all kinds of beautiful modern ruffles onto cupcakes using multiple piping tips.

Lesson 4: Preparing Fondant for Relaxed Ruffles

20:42

Learn how to reinforce fondant to make it perfect for creating ruffles. Karen also provides a comprehensive lesson on dyeing fondant, including how to take into account the factors that cause fondant color to change (like air exposure) so that you can achieve the precise color variations you need for an ombre effect.

Lesson 5: Make an Ombre Ruffle Cake

1:06:37

Learn how to measure, cut, and shape "wave" ruffles and how to arrange them on an ombre ruffle cake.

Lesson 6: Making a Ruffled Flower

50:43

Begin building the big statement flower that will be the centerpiece of your tiered cake with cascading ruffles. Karen demonstrates how to make the bud and petals.

Lesson 7: Buttercream the Cake, Cover in Fondant & Stack

1:36:58

Time to crumb coat your cake, buttercream it, cover it with fondant, and stack it, all of which Karen shows you how to do with the precision that separates amateurs from artists. Pick up tons of tips, tricks, and fixes along the way. Speaking of tips, people have told Karen she should trademark this trick: She's going to show you how to take your leftover bits and pieces of fondant and turn them into a flawless cake board cover.

Lesson 8: Texturing Ruffles; Making Upward & Downward Ruffles

1:19:01

Graduate to the advanced technique of making the textured upward and downward ruffles that will surround your ruffled flower as well as cascade down the side of your tiered cake.

Lesson 9: Pricing & Selling Ruffled Cakes

8:27

Ruffled cakes can be time-consuming. If you sell cakes for a living, make sure you don't shortchange yourself by learning how to calculate your costs to arrive at a fair price.
Course Supplies
Downloadable Materials
Downloadable course materials include recipes, ingredients and tools lists, cake specifications, a project timetable, an ingredient conversion chart, and cake templates and outlines where needed.
Ingredient Conversion Charts
Tools & Ingredients
Specifications & Recipes
Project Timeline
Tools
Food safe marker
Cake leveler
Bench scraper
Hammer (used for cake only to keep food safe)
Electric pencil sharpener (used for cake dowels only to keep food safe)
Dowel cutter
Wooden dowels
Floral drying rack
Clay extruder
Garrett frill cutter
Foam former
Ball tool
Tylose glue (recipe included)
Modeling tools
Glue sticks (optional if you are using pre-made centers or small foam balls)
Small glue gun (optional if you are using pre-made centers or small foam balls)
Rose bases
#20 floral wire, white
Plastic wrap
Paintbrushes (1" x 1" flat top brush and one 1 cm wide brush)
Palette knife
Food safe flexible cutting board (optional)
X-ACTO knife (optional)
Sharpie (optional)
Sharp scissors
Cute cupcake wrappers (optional)
Frill or ruffled piping tips (Wilton #70, #103, #104, #1M; PME #050 from the frill set; and Ateco #040)
Non-stick cooking spray (optional)
Toothpicks (optional)
Measuring spoons (2 sets)
Measuring cups
Cake boards (8" x ½" thick; 13" x 1/2" thick)
Cake separator boards (5" x ¼" thick; 8" x ¼" thick; 13" x ¼" thick)
Flexible measuring tape (one for cake use only to avoid cross contamination)
Flexible rulers (optional)
Airtight containers
2 to 3 non-slip, biodegradable 12" piping bags (fabric, parchment paper, or plastic)
3 sets of standard Wilton couplers with rings
Food safe plastic gloves
Spatulas (including 9" angled rounded tip spatula; spreading spatula; and tapered spatula with sharp top)
Rotating base (aka "Lazy Susan")
Flower cookie cutters (optional)
Scalloped-edge cutter (set of 12)
Round cutter set
Gel food colorings (Americolor peach, electric pink, super black, egg yellow, and ivory)
2 fondant smoothers
Ribbed metallic rolling pin
Small silicone rolling pin
Large wooden rolling pin
Fondant rolling mat (Optional. You could use your counter or tabletop, prepared with a non-stick agent like vegetable shortening or cornstarch to prevent fondant from sticking.)
Cupcake pans
Cake pans (5" x 3", 6" x 5", 8" x 3" and 11" x 3")
Sneeze guard attachment (optional)
Flat beater mixing attachment (optional)
Stand mixer or handheld mixer
Electric pasta machine (optional)
Ingredients
Tylose powder
Gum paste
Cakes (recipe included)
Royal Icing (recipe included)
Buttercream (recipe included)
Cornstarch
Vegetable shortening
Fondant
Frequently Asked Questions
When is this class offered?

Anytime you want it to be! When you purchase a CakeMade course, it is yours to keep; you can watch the lessons whenever and how often you like. If you have any questions along the way, just post them on the forum and Karen will answer them personally.

Can a beginner take this course?

Yes. The course is designed to begin with the easier ruffle techniques and then gradually get you comfortable with increasingly more difficult ruffle skills until you are ready to tackle advanced methods.

What projects will we complete?

You'll learn how to how to make a fondant flower and cascading ruffles for a tiered cake; how to make an ombre ruffle cake; and several ways of piping buttercream ruffles onto cupcakes.

Are any recipes provided?

Yes. Karen shares several recipes that she uses in her custom cake shop, including her "easy, shelf life stable buttercream"; her royal icing, her fruit filling, and her go-to cake recipe. She also provides in-depth notes on adjusting recipes for your climate and altitude.