You don't need a green thumb to make this gorgeous, gravity-defying garden cake — just the guidance of world-famous cake artist Susan Carberry and the secrets to hiding support structures inside the cake. Make it the centerpiece of your next outdoor celebration or use it to bring a little nature indoors.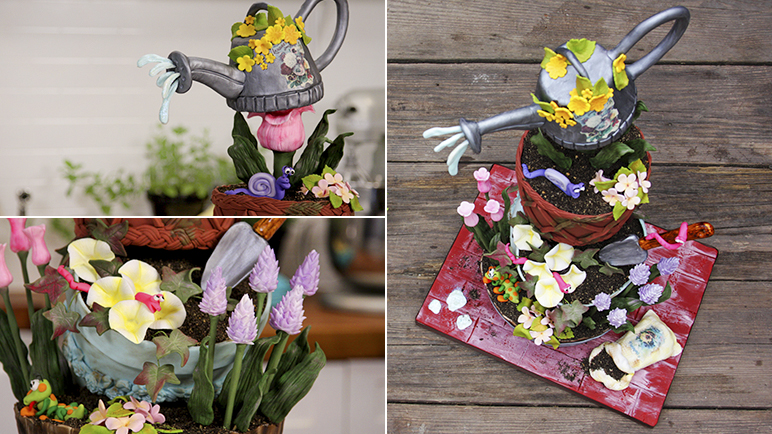 Overview
When you see cakes with perilously tilting tiers, do you wonder what's stopping them from toppling over? If so, this course is for you. Award-winning cake artist Susan Carberry demonstrates all the tricks and secrets to making a gorgeous 4-tier garden cake that seems to defy the laws of physics. You'll learn how to build an internal PVC pipe structure, a skill crucial to making all kinds of structured and 3D cakes; how to carve, cover, and paint three different types of pretty (and amazingly realistic) garden pots; how to quickly and easily make five different kinds of bright, bold flowers and three different types of leaves; how to achieve both natural-looking and eye-popping color on every part of the cake; how to create three of Susan's adorable signature garden critters; and how to use rice cereal treats to add special touches that don't lend themselves to being created out of cake. The best part of learning to make this cake? Any one of the tiers could stand alone as an impressive novelty cake. And the fondant flowers and critters complement all kinds of designs. Detailed diagrams and a complete tools list come with this action-packed course, transforming every student into a cake engineer.
Reviews
Brenda Pierce

This tutorial was fantastic! I have yet to try a gravity defying cake, I so want to try it ! Still nervous! Susan was very informative with such a lovely manner. Thankyou for a wonderful tutorial. Brenda

Brenda Trump

Following along with Susan was such a joy. She is not only an excellent teacher with a great deal of experience in her field, but she brings a great deal of whimsy and adventure to the process. I learned a great deal about fondant figurines and formation but how to stretch the imagination for the unexpected. Thanks for such an amazing class and teacher.

Dorina marks

I loved this class! I've always wanted to make something like the watering can and now I finally can! Susan is such a great instructor and her skills are superb. I love all her techniques! This cake is awesome! Thanks for this oppertunity!

Julie c

I most definitely have to agree with the others disappointed that it's not an actual real cake . Even though I understand it but I am a visual person and I believe it would've been much easier with real cake

Donna

Love the class. I would love to post a picture but I don't know how.
Lesson Plan
Lesson 1: Meet Susan Carberry

2:29

Meet your instructor, Susan Carberry, and learn about the tools you'll need to create her gravity-defying garden cake and the skills you'll acquire while making it.

Lesson 2: Preparing the Cake Board

15:01

Begin building the internal structure that will support the cake using the PVC pipe/flange assembly method and learn how to make it food safe. Then watch Susan make a fondant-covered cake board look like brickwork.

Lesson 3: The Barrel

38:15

Watch Susan transform the bottom cake layer into a realistic-looking barrel. This lesson features cake carving, creating patterns for fondant, texturing fondant, and airbrushing and dusting a cake.

Lesson 4: The Patina Pot

38:20

Learn what goes into making a topsy-turvy tier that doesn't tip over — in this case, a pretty patina pot. Learn how to add decorative rose details to the pot.

Lesson 5: The Terra Cotta Pot

37:23

Continue building the internal support structure so it can support the third layer: a fondant-covered cake that Susan transforms into a realistic-looking terra cotta pot complete with lattice, braided borders and moss.

Lesson 6: The Watering Can

1:05:22

Work your way to the fourth tier — a watering can made out of rice cereal treats coated with chocolate. Discover how Susan creates the can's old-timey label.

Learn how to disguise one of the cake supports by turning it into a giant tulip (genius!) made out of rice cereal treats and fondant. Plus, how to make smaller tulips.

Lesson 8: Fantasy Flowers

29:00

Watch Susan whip up four more kinds of flowers and some leaves to join the tulips. And we do mean whip up: you'll be amazed at how quickly you can create fanciful fondant flowers once you know Susan's shortcuts. Also in this lesson: how to achieve realism through clever use of color.

Lesson 9: The Spade

10:22

Forget less is more! Susan likes to fill every bit of her "garden" with something beautiful or whimsical. Here, she shows you how easy it is to shape fondant into a spade.

Lesson 10: Gravity-Defying Water

7:26

Discover the trick to making water appear to pour out of the gardening can spout. Learn how Susan manages to mimic the color of water.

Lesson 11: Planting the Flowers

37:37

Fill the pots with chocolate buttercream and then cover them with "dirt" — your choice of crumbled chocolate cake or cookies. Then plant your flowers in this delicious potting soil.

Create worms with personality by following Susan's lead. Learn how little touches, like color choices and facial expressions, can turn a simple fondant critter into an eye-catching creature.

Lesson 13: The Caterpillar

15:00

A caterpillar with shoes? Why not! Susan continues to show how an ordinary fondant figure can be turned into something extraordinary with paint and whimsy.

Lesson 14: The Snail

9:02

The secret ingredient in Susan's snail? Pasta. Learn how it can be used to provide internal support.

Lesson 15: The Seed Sack

10:04

Time for your garden cake's final decoration: a seed sack. Discover what it's made out of and learn all of Susan's tricks for making it look so real — tricks that will come in handy for all your cake adventures.
Course Supplies
Downloadable Materials
Downloadable course materials include recipes, ingredients and tools lists, cake specifications, a project timetable, an ingredient conversion chart, and cake templates and outlines where needed.
Ingredient Conversion Charts
Tools, Ingredients & Timeline
Cake Diagrams
Tools
14-inch x 18-inch ¾-inch plywood board
½-inch metal flange
4 (¾-inch) flat-head screws
10-inch long, ½-inch round metal plumbing pipe
6-inch long, ¾-inch round PVC pipe
3 ¼-inch long, ¾-inch round PVC pipe
½-inch metal coupling (not a coupler)
4 ½-inch long, ½-inch round metal plumbing pipe
3-inch long, ¾-inch round PVC pipe
½-inch to ¼-inch metal adapter/reducer
8-inch x 6-inch Styrofoam barrel, cut to specs per lesson 4
6-inch long, ¾-inch round metal plumbing pipe
1 Jubilee clip
½-inch round PVC sliver of pipe (called an "angler") cut at an angle, ¼-inch on one side, ½-inch on the other
Power drill with ¼-inch drill bit
Forstner bit
PVC pipe cutter
9-inch cardboard round
6-inch cardboard round
3, 6, 7, 8, & 11-inch cardboard rounds (for carving purposes)
Masonite board cut to specs per lesson 4, ¼-inch thick
6-inch round Masonite board, ¼-inch thick
5-inch round Masonite board, ¼-inch thick
Cake corer
Airbrush
Palette knife
Pizza cutter
Veining tool
Wire brush clay tool or grill brush or hard toothbrush
Offset spatula
FMM knife and scriber tool
Serrated knife
Umbrella tool
Small to medium-sized ball tool
CelStick
X-ACTO knife
Scissors
Embroidery scissors
Small and medium-size rolling pins
Hard plastic ruler
Measuring tape
Glue gun
Ribbon cut to measure the length and width of cake board
Small house painter's brush
Small and medium flat, firmer painter's brushes
Small and medium fluffy, soft painter's brushes
Very fine firm painter's brush
Handmade template for barrel sides
18-gauge floral wire
28-gauge floral wire
Wire cutter
Floral tape and floral tape cutter
Crochet mat
Bamboo BBQ skewers
Dry pasta
Thin rice noodles
Piping tip #6
Aluminum foil
Plastic wrap
Acetate paper or sheet protectors
Clay extruder (optional)
Silicon rose border mold (optional)
Silicon braid mold (optional)
Edible printer for edible labels (optional)
Plunger flower cutter set, blossoms (optional)
Plunger leaf cutter set, rose leaf (optional)
Plunger leaf cutter set, ivy leaf (optional)
Morning Glory mold veiner and cutter set (optional)
Ingredients
(2) 11-inch round, 2-inch high cake rounds
½ sheet cake cut and stacked
(2) 7-inch round, 2-inch high cake rounds
Cereal Treats, one sheet about 12 inches x 12 inches by 1 inch thick
4-6 cups "potting soil" — ⅔ chocolate cake crumbs, ⅓ graham cracker crumbs, mashed up and mixed
3 pounds vegetable shortening
4-5 pounds chocolate buttercream
Cornstarch (in nylon sock)
White chocolate candy melts
Tylose powder
Vodka or lemon extract to make paint
Bright white gel food color
Chocolate brown gel food color
Lemon yellow gel food color
Chocolate brown airbrush color
Black petal dust
Brown petal dust
Cymbidium petal dust
Green ivy petal dust
Moonstone luster dust
Hot pink petal dust
Ela rose luster dust
Elf green luster dust
Ultra purple luster dust
Orange shimmer luster dust
Canary yellow luster dust
Clear blue disco dust
12-20 pounds fondant in the following colors: red and brown mixed to create the color brick red; black and white to create the color gray; red, brown and white mixed to create the color terra-cotta; green and brown mixed to create the color avocado; yellow, green and white mixed to create the color lime green; white, baby blue, pastel pink, lavender, yellow, pink, orange and purple
Frequently Asked Questions
When is this class offered?

Anytime you want it to be! When you purchase a CakeMade course, it is yours to keep; you can watch the lessons whenever and how often you like. If you have any questions along the way, just post them on the forum and Susan will answer them personally.

Can a beginner take this class?

Yes! Susan will demystify many cake design skills that intimidate beginners, like how to build a PVC pipe structure for a gravity-defying cake. Detailed diagrams and complete tool lists are included in your downloadable course materials, making things even easier.

Is every part of this cake edible?

Most of it, yes. But you'll learn how to incorporate Styrofoam into the middle tier — the patina pot — as part of the illusion. It's a skill that comes in handy in many novelty cakes.

How long does it take to make this cake?

About 12 hours. But that's counting every single embellishment. You could easily cut down on the time by eliminating some of the flowers and/or critters, or downsizing it into a 3-tier cake.