Rustic cakes are all the rage, and Liz has developed unique techniques for creating two of the most popular styles in the business, the Chalkboard Cake and the topsy-turvy Birch Tree Cake. Learn her secrets as she walks you through each design. Between the two cakes you'll acquire skills you can apply to dozens of different designs, like how to create sturdy internal structures.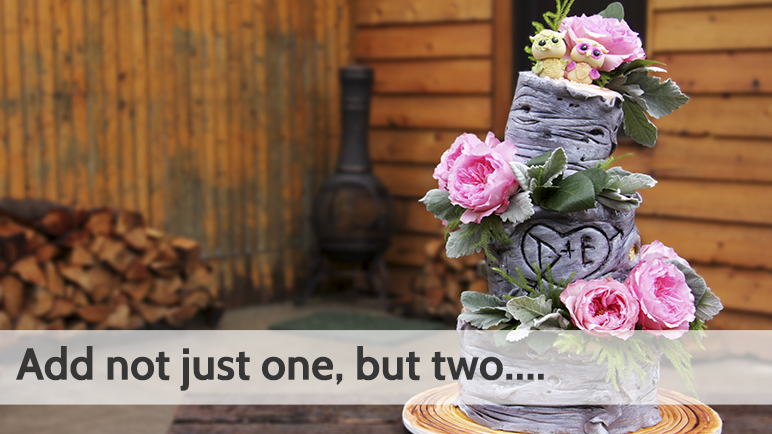 Overview
Learn how to pull off two of the hottest wedding cake styles in the business: a topsy-turvy birch tree cake and a chalkboard cake. Cake artist Elizabeth Marek says clients are both surprised and delighted when they learn that the "bark" and "tree trunks" in her birch cake are not only edible but delicious! She'll teach you the unique methods she's created for making both elements look so authentic. The chalkboard cake you'll master is another growing trend in the wedding industry. Working with black fondant can be challenging for beginners, but Liz shares tricks she's developed to make it user friendly. Plus, she'll teach you easy ways to achieve the whitewash / chalkboard effect. This course covers cake structure, figure modeling, hand-painting, color washing and advance fondant techniques. You'll learn how to make a wafer paper peony; how to buttercream and fondant cakes using the upside-down method, which guarantees sharp edges; and how to make adorable owl toppers out of modeling chocolate. Both cakes are ideal for customizing, and Liz shows you some fun ways to do just that. As a bonus, Liz shares what she's learned about turning a cake decorating passion into a profit-making business.
Reviews
Monica Medrano

Loved the class!!! I can't wait to make my own creations for the Rustic Wedding Cakes.

Molly Casey

Great class! Liz made both cakes look so easy...always had great tips and techniques to offer. Looking forward to her next tutorial.

Karla Pereira

Excellent classes

Michelle Beauregard-Bauer

This is one of my FAVORITE cake classes & I have taken nearly 100 classes on Craftsy, here & other resources. I have referred back to this one many a times unlike any other class I have. Liz gives some GREAT tips that I wish I knew about before now :) Another wards it's not just about the two cake styles but also many great tips & tricks along the way! I now cover my fondant cakes the way Liz showed in this course & I love it!! I highly recommend this class as one of your first classes as a beginner or in addition to your classes at any level. I know you'll walk away & have learned something or many something's ;) Bravo Liz, really really like this class!! Thank you!

Myriam Perez

Amazing course with step by step guidance, hope Liz will make many more video tutorials!

Fabiana Rivarola

EXCELLENT !!!! I learned a lot.... Extreme explanation about everything... I LOVE IT.... LIZ YOU ARE GENIAL!!!

Barbara Traylor

Am loving the class. Liz is a great teacher. Learn so much watching her. She also teaches you that it's OK to make mistakes. Love her calm teaching manner and sense of humor.

Christy Duffell Seguin

This course is awesome! Liz is an amazing teacher who is skilled at breaking down what looks like difficult concepts into simple steps. I have made several cakes & all of them have received rave reviews!

Yazmin

Liz is an excellent instructor I like the way she teaches, thank you so much for this awesome class

Mary Blaul

I really loved making the birch cake for my daughters wedding! Thanks so much for all the insights in this program. I was wondering how long the buttercream icing can last in the fridge. The fondant is amazing with the mixing. I always mad just a marshmallow recipe then I tried yours and it was so much easier to work with. Please let me know about the buttercream..
Lesson Plan
Lesson 1: Meet Liz Marek

3:53

Meet cake artist Liz Marek and learn about the tools and ingredients you'll need and the techniques you'll master while making two of her most popular wedding cakes: a chalkboard cake and a topsy-turvy birch tree cake.

Lesson 2: Preparing the Birch Cake

29:44

Review the basics — torting, filling, and crumb coating cake — and learn how to mark the center of your cake board in preparation for doweling a topsy-turvy cake. Then learn the upside-down technique of buttercreaming a cake, a foolproof way to get sharp edges — FAST.

Lesson 3: Building the Birch Cake Structure

38:38

Continue to build a structure solid enough to support the birch cake's tiers. Also in this lesson: How to mold and paint a cake board to look just like beautiful, natural wood.

Lesson 4: Covering the Birch Cake in Fondant

26:05

Use the upside-down technique to cover your cakes, this time in fondant. Then begin to transform your fondant into realistic-looking birch by creating the appearance of tree rings.

Lesson 5: Texturing the Birch Cake

36:56

Begin to create your tree bark by covering the cake with another layer of fondant. Then, using modeling tools, learn how to tear and texture it to resemble bark, branches and knots. Finally, watch how Liz achieves that silvery birch tree effect with paint. Don't forget to carve your initials!

Lesson 6: Color Washing the Birch Cake

20:51

Master the art of color washing. It's a great way to achieve realistic color — in this case, the hue of real birch bark.

Lesson 7: Sculpting a Chocolate Owl

22:24

The perfect topper for a tree cake? An owl or two! Learn how to sculpt an adorable one out of modeling chocolate.

Lesson 8: Stacking the Birch Cake

6:01

Time to stack the layers. Don't be scared: Liz is going to show you how to install spacers and supports for that whimsical topsy-turvy look!

Lesson 9: Decorating with Real Flowers

20:07

Discover how easy it is to decorate with real flowers while keeping the cake edible. This lesson includes tips on flower selection, floral design, and keeping the flowers fresh. Learn different options for making real flowers food safe.

Lesson 10: The Chalkboard Cake

15:26

Moving on to the trendy chalkboard cake! Pick up tips on covering a cake in black fondant, a tricky but essential ingredient in creating a chalkboard look. Liz provides a thorough rundown of all the potential problems caused by black fondant and how to avoid or fix them.

Lesson 11: Stacking the Chalkboard Cake

13:34

Discover a simple way to build sturdy support for your chalkboard cake — or any stacked cake — using fat straw supports.

Lesson 12: Decorating the Chalkboard Cake

24:41

Watch how Liz achieves the chalkboard cake's whitewashed effect — a look that always makes people ask, "How'd you do that?!" Also, how to choose a design for your cake and how to hand-paint it on.

Lesson 13: Making a Wafer Paper Peony

41:22

Discover the delicate beauty of wafer paper flowers. Liz demonstrates how to make a simple wafer paper peony.

Lesson 14: Selling Your Cakes

7:34

Whether you want to sell cakes for a living or just want to know how to price the occasional commissioned cake, Liz offers useful advice including how to come up with cake designs, how to work with customers, and how to transport elaborate cakes to their destination intact.
Course Supplies
Downloadable Materials
Downloadable course materials include recipes, ingredients and tools lists, cake specifications, a project timetable, an ingredient conversion chart, and cake templates and outlines where needed.
Ingredient Conversion Charts
Cake Diagrams
Recipes
Project Timeline
Tools & Ingredients
Tools
Fat straws or dowels
Scissors
X-ACTO knife
Straight blade
Floral tape (white, green)
Acrylic brushes (small, medium, large)
Rolling pin (small and large)
Paper towels
Medium offset spatula (7" - 9")
Small offset spatula (4 ¼")
Tall bench scraper (10")
Bread knife
Turntable
2 fondant smoothers
2 (14") cake boards or cutting boards
6-quart stand mixer with whisk, paddle, and dough hook attachments (optional)
Parchment squares
Glue gun
Sandpaper
Cake dummy (4")
10 2"x2" posterboard squares
12" pre-coated cake board or heavy wooden board
8" cardboard round
6" cardboard round
4" cardboard round
¼" wooden dowel
2 (4") cake dummies
Bubble tea fat straws
PVC cutters
Textured mat, burlap
Large, medium and small ball tools
Modeling tools
Scruffy paintbrush or pastry brush
Foam block (¼" x 24" x 54")
Cake pop sticks
Food coloring (black, chocolate brown, white, ivory, pink, yellow, avocado green)
10 to 12 medium-size fresh flowers (peony, cabbage roses, etc.)
Filler leaves and foliage (dusty miller, small leaves, etc)
Two (8") cake pans
Two (6") cake pans
Two (4") cake pans
Airbrush
Red airbrush color
Petal dust (moss green)
Food coloring (white, avocado green)
10" pre-coated cake board or heavy wooden board
Peony stamens
Floral wire (white)
Piping gel, clear
8" cardboard round
6" cardboard round
4" cardboard round
Two (8") cake pans
Two (6") cake pans
Two (4") cake pans
Ingredients
Sturdy cake (recipe included)
Swiss Meringue buttercream (recipe included)
Fondant (recipe included)
White modeling chocolate
Sturdy cake (recipe included)
Swiss Meringue buttercream (recipe included)
Fondant (recipe included)
Gumpaste (recipe included)
Wafer paper (five 8½" x 11" sheets)
Frequently Asked Questions
When is this class offered?

Anytime you want it to be! When you purchase a CakeMade course, it is yours to keep; you can watch the lessons whenever and how often you like. If you have any questions along the way, just post them on the forum and Liz will answer them personally.

Can a beginner make these cakes?

Yes! Liz carefully walks viewers through each step, especially the more complex lessons like building internal support for structured cakes.

Are the flowers edible?

Yes and no. Liz shows you how to decorate a cake safely using real flowers, which may or may not be edible depending on the blooms you choose. And she teaches you how to make wafer paper flowers, which are edible.

Do I need to be artistic to decorate the chalkboard cake?

Not at all. If you're a painter, you can probably apply a motif freehand. But for the rest of us, Liz will demonstrate how to press a design outline onto the fondant that you can trace.