Imagine being able to embellish cakes with the delicate and intricate designs you find in antique jewelry and old-world architecture. That's the beauty of piping with royal icing. Anyone with an eye for design will love this modern twist on Nirvana style cakes.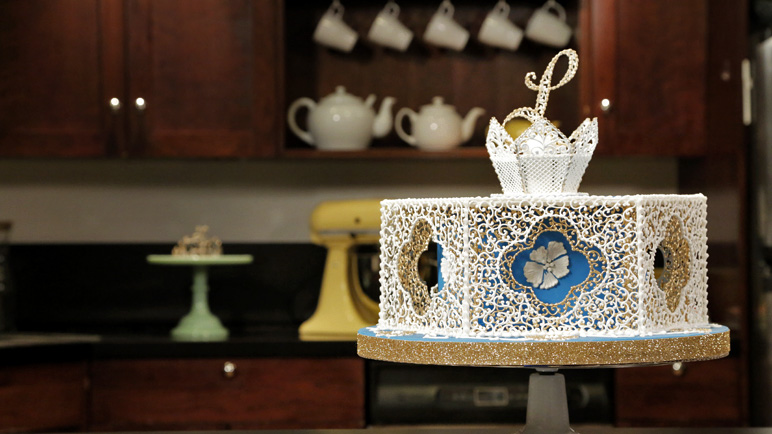 Overview
Learn how to pipe intricate filigree under the direction of master sugar artist Dawn Parrott, first runner-up at the 2013 Oklahoma State Sugar Art Show. Dawn will teach you how to make gorgeous filigree inspired by architecture, antique jewelry, and vintage royal icing patterns. The designs are not only beautiful; they allow you to transform a simple round cake into any shape you want. You'll learn how to make cake collars out of fondant to create the framework for a paneled structure; create piping templates; pipe patterns onto a flat surface and then assemble the dried pieces into a 3D structure; stencil a cake; and do brush embroidery. You'll also learn how to design and create 3D filigree cake toppers out of royal icing — a monogram and a tiara. And because Dawn feels strongly that success lies with using the right royal icing, she'll share the recipe that has helped her filigree cakes win awards. Dawn also provides tips on transporting and serving this delicate cake, which is perfect for a wedding, a shower, a birthday, or an anniversary. This class is for beginners who want to learn the art of filigree and for intermediate sugar artists who want to perfect their skills.
Reviews
Katie Rebecca Millan

I loved this course. I learnt so many amazing techniques in a very easy to follow way.
Lesson Plan
Lesson 1: Meet Dawn Parrott

3:09

Meet master sugar artist and OSSAS winner Dawn Parrott and learn about the tools you'll need and the techniques you'll master to create intricate 3D filigree.

Lesson 2: Creating Cake Collars & Decorating the Cake Board

1:06:24

Learn about the overall cake structure and how to plan out your collar and panel sizes based on the size of your cake. Then cover your cake board in fondant, make the collar templates, decorate the board with piping and brush embroidery, and attach the base collars to the board.

Lesson 3: Decorating the Cake with Stenciling, Overpiping & Brush Embroidery

40:43

Here you'll learn how to attach a cake to cake board collars and how to create a clean edge with a fondant border. Then watch as Dawn stencils the sides of the cake with royal icing, adds overpiping, and finishes up with a little brush embroidery for a striking 3D effect.

Lesson 4: Attaching the Top Cake Collars

13:22

With the sides of the cake decorated, it's time to attach collars to the top of the cake and border the top of the cake to the top collars.

Lesson 5: Designing & Making Stencils for the Filigree Panels

13:23

Channel your inner architect in this lesson: Dawn shows you how to find inspiration for your cake structure design and — more important — how to bring that concept to life by devising and executing panels that are as sturdy as they are beautiful.

Lesson 6: Piping the Panels

1:09:04

Watch how Dawn pipes the filigree panel design onto plastic sheets. You'll learn how to reinforce the panels for durability and how best to handle these incredibly delicate 3D elements. Plus, Dawn shares a few tricks for speeding up their dry time.

Lesson 7: Airbrushing the Inner Panels

6:36

Enrich your filigree 3D panels by airbrushing on a golden sheen. Dawn shows you how to make gold paint and discusses how to color the panels using other applications.

Lesson 8: Attaching the Inner Panels

30:52

Dawn demonstrates the delicate process of lining up the panels and shows you how to make the edges look flush even if they're not perfectly aligned. She also shows you how to save the day if a panel cracks or breaks. Then watch how she pipes a border in between the panels and hand-paints the border gold.

Lesson 9: Attaching the Outer Panels

32:19

Time to attach the white outer panels, add some finishing touches to the cake's top and bottom borders with piping, and put a decorative ribbon on the cake board.

Lesson 10: Making a Monogram Cake Topper

1:07:49

Learn how to design, pipe, and assemble a 3D filigree monogram cake topper, an elegant way to personalize any cake. You'll also learn how to make a basket-style pedestal for the topper that is pretty on its own or can be used to display an additional cake decoration, like flowers.

Lesson 11: Making a Tiara Cake Topper

17:48

Watch how easy it is to whip up a tiara cake topper. Dawn demonstrates how to pipe one using your own sketch or a template; how to airbrush it; and how to make it sparkle with pearl dragees.

Lesson 12: Transporting the Cake — and Cutting It!

7:21

Learn the best way to cut a cake enclosed in filigree panels. And benefit from Dawn's years of experience as she shares tips on packing up and transporting delicate cakes.
Course Supplies
Downloadable Materials
Downloadable course materials include recipes, ingredients and tools lists, cake specifications, a project timetable, an ingredient conversion chart, and cake templates and outlines where needed.
Ingredient Conversion Charts
Project Timeline
Tools & Ingredients
Recipes
Diagrams
Tools
6-quart stand mixer with all attachments
Rolling pin
Silicone mat or surface to roll fondant
Small offset spatulas (4")
Cake boards (4"- 6" bigger than your cake)
Scissors and offset scissors
Pizza wheel cutter
Ruler
Measuring spoons and cups
Bowl for icing
Templates (provided)
Plastic wrap
Ribbon
Small detail paintbrush
Piping bags and coupler
PME piping tips #2, #3, #5 & #7
Clear sheet protectors
Airbrush
Cake stencil
3 (9" x 2") round cake pans
16" cake board
Ingredients
Cake of your choice
White fondant (recipe included)
Secondary color fondant of your choice
Gum paste (recipe included)
Buttercream (recipe included)
Royal icing (recipe included)
Cornstarch
Gold highlighter powder (Albert Uster)
Everclear or clear alcohol or lemon extract
Frequently Asked Questions
When is this class offered?

Anytime you want it to be! When you purchase a CakeMade course, it is yours to keep; you can watch the lessons whenever and how often you like. If you have any questions along the way, just post them on the forum and Dawn will answer them personally.

Do I have to have sugar art experience to make this cake?

Not at all. You are being taught by a master sugar artist — 2013 Oklahoma State Sugar Art Show first runner-up Dawn Parrot — but Dawn would be the first to tell you that excelling at piping, stenciling, and filigree is just a matter of practice.

Will we make anything besides this cake?

Yes. Dawn will show you how to make two beautiful 3D filigree cake toppers out of royal icing — a monogram and a tiara.

Are any recipes included?

Yes. Dawn shares her personal royal icing recipe — formulated to make 3D objects stronger — as well as her recipes for gum paste, fondant and buttercream.