You know those elegant, meticulously-decorated wedding cakes that take your breath away on bridal websites? Bronwen, aka The Food Network's "Cake Challenge Champion," is going to teach you the piping techniques that make them so stunning.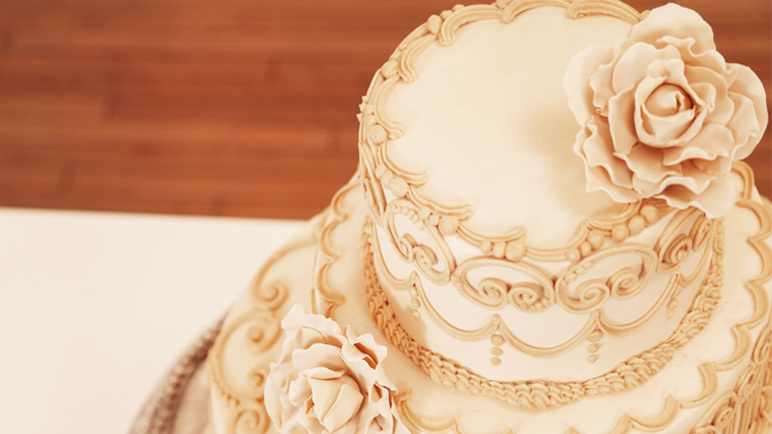 Overview
Create the kind of sumptuous tiered cake you see in high-end weddings with the guidance of custom cake artist Bronwen Weber, aka the Food Network's "Cake Challenge Champion." Fun-loving Bronwen is here to tell you — and show you — that cake decorating needn't be scary. Enjoy her wit and wisdom as she demonstrates her unique method for building a tailor-made cake plateau for custom cakes; shares her secret to making gorgeous (and fast!) sugar flowers; and shows you how to airbrush like a pro. Bronwen will teach you the tricks professional cake decorators use to ice cakes quickly and flawlessly and she'll show you her foolproof way to make a stacked cake "tornado-proof." Most important of all, she'll spend a whole lesson getting you comfortable with the four fundamental piping techniques used to create virtually every classic design. Then she'll let you in on the pros' tricks for piping on an actual cake, including how to combine the four techniques to create intricate, elegant patterns. Plus she shares loads of practical advice, like the versatility of vodka for cleaning up and fixing mistakes. She'll also show you how to box your cakes securely, transport them safely, and price them fairly (hint: You're probably not charging enough!!). You'll not only learn a lot in this course; you'll remember just how much fun cake decorating can be.
Reviews
Traci Blackwell

I am a very symmetrical cake decorator. Seeing this video showed me that random patterns frees me from the stress of striving for perfect symmetry. I will never forget that tip, I will use that for the rest of my career.

Filomena Hart

I learned many new ideas on how to put the cake together and display it. I also enjoyed the quick flower making.

Anonymous

A good teacher is one who shows mistakes common in doing the task. Bronwen does a fabulous job doing that and explaining why. As a student we remember what to do by reminding us what not to do.

Anonymous

So much information packed in there. I have over 20 craftsy classes and this class had the most useful information I have ever gathered in one class.

Anonymous

I never knew that you could make a cake stand. It was amazing!!! I like everything about the course, especially the piping part of the course.

Anonymous

I have done about 20 wedding cakes in just the last year and Bronwen does things a little differently. Am excited to try some of these techniques to incorporate into my process. Looking forward to more.

Anonymous

I liked that it seemed a little more real and Bronwen's personality really shines through. Also, the class includes a lot of information that other sites don't in one course. For example, we're not just building the cakes, but also boxing, pricing and delivery. You don't get all of that in other courses on other sites.

Anonymous

This class made everything look so easy!

Sandra Frearson

Absolutely brilliant course. Bronwen is such a joy to watch and a fantastic humorous teacher. I could watch her all day. She makes every step look so easy with clear concise instruction. Can't wait to do another of her courses xx

MsInes

Loved the class, but I have to disagree with Bronwen when it comes to the crumb coating. If you are skilled on decorating cakes ( meaning: you have been decorating cakes for a long time), there must be a moment that you can do without for the reasons she offered. But at the beginning of your business, when you don't even know which icing goes here or there, why not? I did it!!! Especially when it came to chocolate cakes....Oh, yeah, baby!! Bronwen is a star on her own when it comes to business of cake decorating. I learned a lot while watching this class. Thanks, Bronwen!!

Julie Crawford

This is absolutely the best piping class! Thank you Bronwen for making this class so full of great cake info. Thoroughly enjoyed the class!

Donna S

The class kept stopping- midway through it quit- could not get it going again.

Tracy Ramp

You are a fantastic teacher.. I love your sense of humor best of all, it helps drive the point home. I thought I knew all, but you taught me a few tricks and I Thank You....Please do another class....
Lesson Plan
Lesson 1: Introduction

4:57

Meet Bronwen Weber and learn about the techniques you'll master and the tools you'll need as she teaches you how to make a contemporary three-tiered wedding cake with classic piping.

Lesson 2: Make Pretty Sugar Flowers — Fast!

38:54

Some sugar flowers take days to make, but Bronwen shows you a quick, easy way to make a bloom that brides swoon over. Guests will never guess you whipped them up so fast.

Lesson 3: Creating a Custom-Sized Plateau

11:53

Specialty cakes often come in odd shapes and sizes. That's why Bronwen is going to teach you how to carve a plateau out of styrofoam that you can customize for every cake you make. It's a unique offering that will really add value to your cakes. And don't worry about it not being pretty: Next you'll learn how to make it look like it's made out of silver!

Lesson 4: Molding Modeling Chocolate

1:08:43

Learn how to shape modeling chocolate to transform your plain plateau into a gorgeous cake base complete with faux filigree and pearl borders.

Lesson 5: How to Airbrush

13:58

Airbrushing is a great way to add realistic color to a cake. Bronwen demonstrates how to spray on three paints to give the cake board a vintage, burnished look.

Lesson 6: Icing Cakes like a Pro

32:46

Icing a cake is an art in itself. Discover the tricks professional cake decorators use to frost cakes fast and flawlessly, including how to prep the cake just fine without the fuss and bother of a crumb coat. Plus, the pros and cons of different icings.

Lesson 7: Foolproof Support for Stacked Cakes

18:31

Famous for her oversized creations, Bronwen knows a thing or two about building support for stacked cakes. In this lesson, she teaches you her foolproof method for making a tiered cake "tornado-proof."

Lesson 8: Classic Piping Techniques

24:30

Watch and practice along as Bronwen focuses a whole lesson on breaking down the four fundamental piping techniques used in every classic design — dots, lines, S-curves and C-curves — and shares essential tips on achieving smooth and elegant piping.

Lesson 9: Piping a Tiered Cake

55:51

It's time to test your piping skills on the real thing! Now that you know the essential techniques, learn how to choose a design and how to map out exactly where it will go. Discover ways to combine piping techniques to stunning effect and pick up tips and tricks that make it easier to pipe the sides and borders of a cake.

Lesson 10: Now What? Tips on Pricing, Boxing & Delivering Specialty Cakes

6:53

Now that you're creating cake masterpieces, what the heck should you charge for them? Bronwen tells you what factors to take into account when setting prices. Plus, her tips on boxing up and delivering cakes so they arrive in tip-top shape.
Course Supplies
Downloadable Materials
Downloadable course materials include recipes, ingredients and tools lists, cake specifications, a project timetable, an ingredient conversion chart, and cake templates and outlines where needed.
Ingredient Conversion Charts
Project Timeline
Tools & Ingredients
Recipes
Tools
5-quart stand mixer
Dough sheeter (any size; Bronwen recommends Somerset sheeters) or 2 rolling pins with guide rings (1 large, 1 small) or a pasta attachment for mixer
Offset spatula (4")
Spatula (8")
Plastic bowl scraper
2 piping bags
Couplers for piping bags
Round piping tips (Ateco #2 through #10)
Star piping tips (Ateco #18, #20 and #22)
Mum tip (Ateco #81)
Leaf tip (Ateco #352)
Small paring knife
Pizza cutter
5-petal rose cutters, set of 3 (approx. 3.5", 4" and 5")
Bamboo skewers (any size)
Fondant shaping foam or firm sponge
Ball tool or medium celpin or teaspoon
Cake dummy (20" oval; 3" or 4" tall)
Cake drum or wooden cake board (24" oval)
Black, heavy satin or foil to cover board
4-way shoe rasp file
Bead mold
Leaf cutter (any size)
Dresden tool
Scroll molds (Any kind you like. At least one; more is better.)
Scissors
Ruler
Plastic wrap
Small spritz bottle
Caramel food color
Airbrush or 1" flat soft acrylic bristled paintbrush
2 coast tier plates, round (6" and 9")
Pipe cutter
Hemming ruler
Cardboard cake rounds (6", 9" and 16" oval)
Caramel food color
Silver highlighter dust
Gold highlighter dust
Ribbon
2 (6" x 2") round cake pans
2 (9" x 2") round cake pans
2 (16" x 2") oval cake pans
Ingredients
Your favorite cake
White fondant (recipe included)
Buttercream (recipe included)
Modeling chocolate (recipe included)
Cornstarch or powdered sugar
Shortening
Vodka
Tylose powder
Frequently Asked Questions
When is this class offered?

Anytime you want it to be! When you purchase a CakeMade course, it is yours to keep; you can watch the lessons whenever and how often you like. If you have any questions along the way, just post them on the forum and Bronwen will answer them personally.

What piping techniques will I learn?

The four fundamental techniques are taught in this class — dots, lines, S-curves and C-curves. Once you master them, you can recreate any classic design. And you'll have the skill set to come up with your own (future classic?) patterns.

Is this class only for people interested in making wedding cakes?

Not at all! Everything you will learn in this course — how to build a cake plateau that looks like it's made out of antique silver; a quick and easy way to make sugar flowers; the trick pros use to ice cakes fast; the four essential piping techniques; how to work with modeling chocolate; how to airbrush cake; and much more — can be applied to any kind of cake.

Can a beginner take this class?

Absolutely! In fact, Bronwen says she is here to demystify cake decorating. In her 20-plus years in the cake business, she has picked up lots of tips and developed tons of shortcuts, and she's going to share them all with you.