A gorgeous cake covered in sugar flowers shouldn't be a once-in-a-lifetime treat. Master the art of handcrafting gum paste flowers like Juliet roses, peonies and succulents and you'll be able to turn any cake or cupcake into a work of art.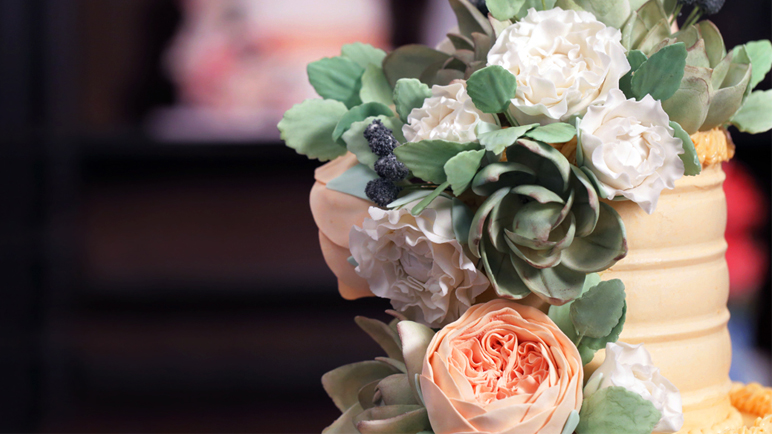 Overview
Learn how to make the stunning sugar flowers you see cascading down high-end wedding cakes, including the intricate Juliet rose. Acclaimed wedding cake designer Amy Noelle is famous for figuring out how to realistically recreate flowers beyond the standard blooms. She'll help you expand your sugar flower repertoire by teaching you how to make the challenging Juliet rose, the trendy succulent, the super popular peony, beautiful Brunia berries, and delicate leaves — all so real-looking you'll want to put them in water. You'll also learn how to comb buttercream into an elegant texture and how to create a "basket" out of ganache and buttercream to serve as the perfect vessel for your flowers. Along the way she'll share her tips on stacking, leveling and supporting cake tiers and piping a perfect rope border and dots. And she'll teach you how to make a light Italian meringue buttercream that's easy to work with and puts the taste of standard buttercream to shame. This course is for anyone who wants to graduate from cookie cutter flowers to amazingly authentic handcrafted sugar paste flowers that you don't see everywhere else.
Reviews
Annie Berube

Sugar flowers are my passion. In this class I learned a few new flowers and also leared how to make filler items. I also became more confident in my icing and stacking abilities.

Wendy Furze

I loved the buttercream recipe and the combing technique that I learned. I absolutely loved all the sugar flower lessons, and I also loved Amy's informative and friendly teching manner, she is fantastic. Amy Noelle's class was fabulous, and I would love to take more classes with her as an instructor.

Anonymous

A different way of making succulents which I've been struggling to find a good tutorial on!

Anonymous

I loved everything about the class - it covered the absolute basics (which are always good to refresh) and particularly that it covered a range of different skills and techniques that I can apply in lots of different ways, rather than just one main focus.

Linda Hall

can't wait to actually try this! The instructions were very clear and easy to understand. The instructor was likewise easy to understand.

Regina Sword

I really enjoyed this class very informative with easy to follow instructions. I would definitely recommend.

Genia D.

Excellent class! Easy to follow. I like that this class does not require expensive cutters and molds. I can use what I already have.

Patricia Holcomb

Love this course really GREAT!!!!!! One question spoon tray - what type of broad do u glue the spoons on
Lesson Plan
Lesson 1: Meet Amy Noelle

3:09

Meet Amy and find out what you're going to learn in her sugar flower making course and the materials you need to gather now if you plan to follow along.

Lesson 2: Making a Sugar Succulent

43:44

Watch as Amy demonstrates how to make the three sizes of petals needed to form a succulent (the current "it" flower); how to assemble them with floral tape; and how to make them indistinguishable from real blooms by painting them with three different petal dust colors.

Lesson 3: Making a Sugar Juliet Rose

55:28

Unlike a sugar succulent, a Juliet rose is not assembled at the end with tape but built up in layers using edible glue. It's a five-day process, but we think you'll agree that the results are worth it!

Lesson 4: Making a Peony

28:21

A sugar peony starts with a center that you build into a bud or flesh out into a full flower. Add a calyx and you've got a really polished peony.

Lesson 5: Making Berries & Leaves

16:34

Now that you've mastered the flowers, it's time to learn how to make some filler flowers — in this case, Brunia berries and leaf sprays. Discover how easy it is to make colored sugar for the berries.

Lesson 6: Italian Meringue Buttercream

8:32

A beautiful cake deserves a delicious frosting, which is why Amy is going to teach you how to whip up her favorite buttercream. Besides being tastier, this buttercream is lighter and easier to work with than the American version.

Lesson 7: "Combing" the Buttercream & Building the Cake

55:04

Time to prep the cake. Learn how to level, stack, support, and caulk your cake; how to "comb" buttercream into an elegant design; and how to pipe on pretty dots and a decorative rope border.

Lesson 8: Arranging the Sugar Flowers

14:50

Now for the really fun part: Arranging your flowers on your cake. Amy shares the design principles that have helped make her the go-to expert on sugar flowers, including how to angle the flowers in an authentic way. Watch as she demonstrates how she herself plans out her flower placement in advance with a sketch.

Lesson 9: Piping a Twig Basket Cake

20:27

A clever way to display your sugar flowers? In a "basket" Amy creates by piping buttercream and ganache to look just like entwined twigs. Amy teaches you her technique for making it look incredibly real.

Lesson 10: Decorating Mini-Cakes with Flowers

14:10

You don't need a three-tiered cake to show off sugar flowers; check out how cute one big flower, or a group of small ones, looks on a mini-cake (or what Amy calls a "better than a cupcake" cake). It's a beautiful and tasty way to thank someone for a favor, wish them a speedy recovery, or just say "I love you."
Course Supplies
Downloadable Materials
Downloadable course materials include recipes, ingredients and tools lists, cake specifications, a project timetable, an ingredient conversion chart, and cake templates and outlines where needed.
Ingredient Conversion Charts
Project Timeline
Tools & Ingredients
Recipes
Tools
Cutting mat
Cel flaps
Wire cutters
Edible glue (water plus gum arabic or a bit of dissolved gum paste)
Small paintbrush
3 flat-topped paintbrushes
Small scissors
Ruler
Pasta machine
Cutters (3 different-sized lotus flower or tear drop cutters; 2" circle cutter; 5-petal cutters in 3 different sizes)
24 gauge white floral wire
18 gauge green floral wire
Pliers
Metal ball tools, medium and large
Foam flower mat
Toothpick, wire, or wooden tool with pointed end
Spoon tray
Half-sphere candy molds (2" diameter)
Craft knife
Digital kitchen scale
Digital kitchen thermometer
5-quart stand mixer with whisk attachment
4-quart saucepan
Stainless steel bowl, medium-size
Whisk
Pastry bags with coupler
Pastry tips (Ateco #5 and #26)
Offset spatulas (4")
Bench scraper or icing comb
Petal dust (not disco dust or luster dust) in buttercup, flamingo (pink), sage, cinnamon, super pearl, and charcoal
4 (12") cake support straws
2 each (4" x 2", 6" x 2" & 8" x 2") round cake pans for tiered cake
2 (8" x 2") round cake pans for basket cake
1 (3" x 2") round cake pan for mini-cake (or 3" circles cut from sheet cake if you are making several mini-cakes)
Ingredients
Butter cake
Italian meringue buttercream (recipe included)
Dark chocolate ganache (recipe included)
Gum paste
Powdered sugar
Frequently Asked Questions
When is this class offered?

Anytime you want it to be! When you purchase a CakeMade course, it is yours to keep; you can watch the lessons whenever and how often you like. If you have any questions along the way, just post them on the forum and Amy will answer them personally.

What kind of sugar flowers will I learn to make?

Instructor Amy Noelle, who has led sugar flower making classes in Martha Stewart's test kitchen, will teach you how to make the intricate Juliet rose, the trendy succulent, and the always popular peony. And since flowers need fillers to look authentic, you'll also learn how to make beautiful Brunia berries and realistic-looking leaves.

Is this course only about making sugar flowers?

Not at all! In fact, Amy is going to share her technique for piping buttercream and ganache around a cake so that it looks just like a twig basket, making it the perfect place to display your sugar flowers. She'll also show you how to create a beautiful, bloom-topped mini-cake that makes a great thank-you present or hostess gift.

Are any recipes included?

Yes. Amy is known for making cakes that taste as good as they look, and she's going to share two of the recipes that helped earn her that reputation: Italian meringue buttercream and dark chocolate ganache.