What child wouldn't light up at the sight of this amazing gumball machine cake? Don't be intimidated by its awesomeness: Shawna has made it hundreds of times and she'll walk you through all the steps. The techniques you learn will help you with all your novelty cake adventures.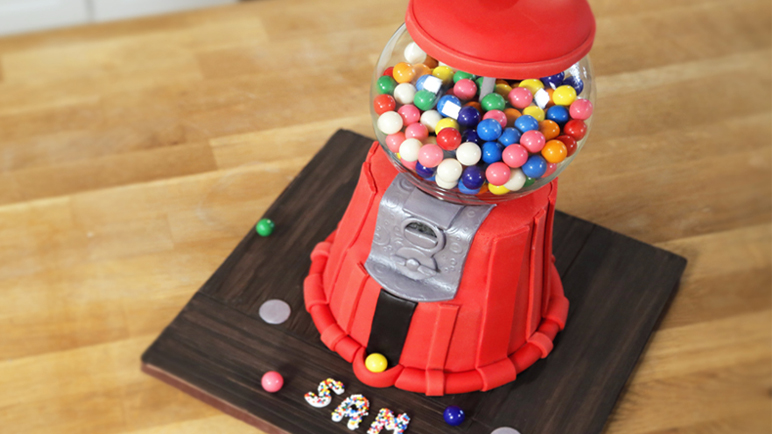 Overview
Create a super impressive gumball machine cake with the guidance of professional cake designer Shawna McGreevy. You'll learn how to cover a cake in fondant; how to create realistic-looking metalwork out of modeling chocolate; how to add design detail using fondant; how to install the hidden structures that support stacked cakes; how to make fondant coins; and much more. If you haven't done a lot of cake carving, this class provides a good introduction. You'll also learn how to get nice sharp edges on ganache in order to set the stage for covering a cake with fondant, and Shawna will discuss the pros and cons of using modeling chocolate vs. fondant. But be forewarned: Once you make this cake, people are going to ask you to make it again and again.
Reviews
Frances Rose

CakeMade gives me confidence to try new techniques and more creative designs. And I love the skills that Shawna shares with her viewers and her quirky sense of humor.

Anonymous

My favourite moment was when Shawna assembled all the components of the cake and the cake literally came to life :) The cake looks so much like a real gumball machine!

Anonymous

I thought that the videography was very good and the images were very clear. The closeup shots were good as well. Shawna has very good detailed instructions and she is very composed in front the camera.

Shunta Williams

This class was AWESOME!!! I really enjoyed how she was so detailed in her teaching.

Cecilia Smith

Loved this class. Great instruction and attention to detail. Information that you can use for lots of projects

Jenny

What an amazing class! I made this for my son's birthday and it was a huge hit. Some people even asked where the cake was :D Thanks Shawna! The class was great and your instructions were clear and easy to follow.

Margie

I enjoyed this class, and I think my cake turned out great. One person asked if I took a Gumball machine and covered it with "that sugar stuff" you see on TV! I must say I am a fan of Shawna's teaching style, she never stopped talking! I mean that in a good way, she guides you all the way to the end.
Lesson Plan
Lesson 1: Introduction to the Cake & Course

2:37

Meet your instructor, novelty cake queen Shawna McGreevy, and learn about the adorable gumball machine cake she's going to teach you how to make and the cake decorating techniques you'll master along the way.

Lesson 2: Decorating the Cake Board

41:59

Watch how Shawna turns a plain cake drum into a faux wooden table with a little fondant, some gel food coloring, a bit of petal dust — and a few clever tricks.

Lesson 3: Making the Quarters

17:09

A gumball machine needs coins. Shawna shows you how to create realistic-looking quarters out of fondant and how to give them a metallic look with silver luster dust.

Lesson 4: Creating Alphabet Letters

10:24

Kids love to see their name spelled out on cakes, especially when they're as colorful as the ones you'll learn to make here.

Lesson 5: Preparing the Cake

30:04

Tackle basic cake carving techniques as Shawna shows you how to shape your cake into a gumball machine base. She'll also share her tips for getting sharp edges on ganache so the fondant goes on smoothly.

Lesson 6: Covering the Cake in Fondant

16:36

How do professional cake decorators get fondant to cover any shaped cake without ending up with the dreaded "elephant skin"? Here's how.

Lesson 7: Creating Silver "Hardware"

58:04

Watch as Shawna transforms modeling chocolate into the gumball machine's "metal" parts — like the embossed plate and change slot — with a little coloring, a textured rolling pin, and some luster dust.

Lesson 8: Adding Red Trim

1:24:21

Bring vintage styling and detail to the gumball machine base by adding red fondant trim all around; Shawna demonstrates how to work quickly with the fondant and how to whip up a gumball holder that can support a real gumball.

Lesson 9: Make the Machine Top

24:39

Learn how to mold red fondant into a spherical shape for the gumball machine top and how to give it a more layered look with trim. The finishing touch? A little "metal" screw.

Lesson 10: Adding Structural Support

22:38

Bubble tea straws are what keep the gumball-filled glass bowl from sinking into your cake base. Shawna shows you how to insert them properly so you can rest assured that this cake — or any stacked cake you make — will have the support it needs. Fill the glass bowl with gumballs; secure the red top; add the letters, coins, and some stray gumballs and — voila! — you've done it!
Course Supplies
Downloadable Materials
Downloadable course materials include recipes, ingredients and tools lists, cake specifications, a project timetable, an ingredient conversion chart, and cake templates and outlines where needed.
Ingredient Conversion Charts
Project Timeline
Tools & Ingredients
Recipes
Tools
5" glass bubble vase
Cake leveler
1 (6") round cake card
1 (4") round cake card
1 (10") round or square cake drum
1 small container of silver luster dust
1 small container of cocoa petal dust
1 small container of black petal dust
1 pair disposable, food safe gloves
Black gel food coloring
Brown gel food coloring
X-Acto knife
Large rolling pin
Small rolling pin
12" ruler
Large serrated carving knife
Bench scraper
Small angled spatula
Turntable
Fondant smoother
Level
Foam core board (at least 10" x 10")
1 sheet of wax paper (at least 10" x 10")
3 bubble tea straws or dowels
Sharpie
Textured rolling pin, swirls
1 straight edge razor blade
1 straight pin
2 small paintbrushes
1 medium-size paintbrush
Ball tool
Stainless steel round circle cutters (1 quarter size, 1 dime size)
1 color shaper, angle chisel tip, soft, #10
1 6-wheel pastry dough cutter
Small multicolored sugar pearls
Letter cutters (1 ½" - 2" high)
1 clean quarter
Sugar shaker
Glue gun (optional)
3 (6" x 2") round cake pans
Ingredients
Sturdy cake (recipe included)
Red fondant
White fondant
White modeling chocolate
Gumballs
Ganache (recipe included)
Powdered sugar
Lemon extract
Shortening
Royal icing (optional)
1 package uncooked dry, thin spaghetti noodles
Frequently Asked Questions
When is this class offered?

Anytime you want it to be! When you purchase a CakeMade course, it is yours to keep; you can watch the lessons whenever and how often you like. If you have any questions along the way, just post them on the forum and Shawna will answer them personally.

Do I need to know cake carving to make this cake?

There is a little cake carving involved in this cake, but don't worry! Shawna is going to walk you through the steps so even a beginner can follow along.

Is that real glass and metal?

The glass bowl is real, but the "metal" you see is actually made out of modeling chocolate! Shawna will show you the tricks involved in getting it to look so real. The "coins" are chocolate, too.

Can a beginner make this cake?

Absolutely! All the techniques used to make this cake — carving cake, shaping fondant, molding modeling chocolate — are carefully demonstrated by Shawna in the lessons.