How adorable — not to mention impressive — are these cakes? You don't have to love manga and anime to be blown away by these cartoony characters with oversized heads, a style known as chibi. Don't be intimidated by the top-heavy design; building their sturdy internal support is easier than you think, especially with Avalon's step-by-step guidance. So let Avalon teach you how to make them for the little superhero or princess in your life; they're the only two kids' birthday cakes you'll ever need! But if you want to get creative, this course gives you the skill set to create a template for any kind of character -- a ninja, a ballerina, a pirate -- and turn that into a cake.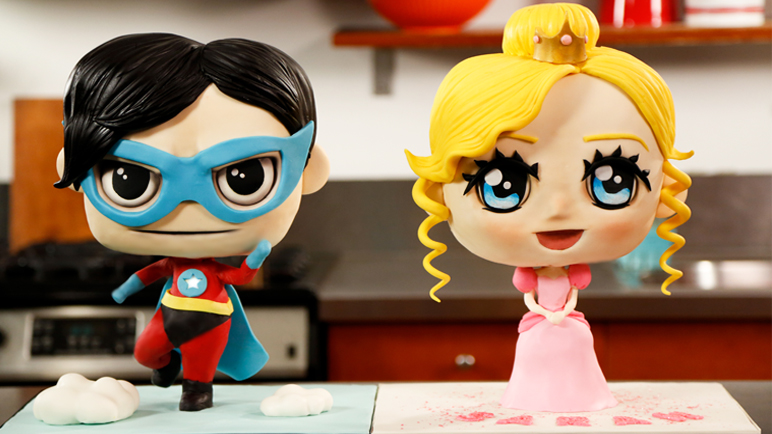 Overview
When you walk into a room with a chibi cake, adults and children alike are unable to take their eyes off it! The children are thrilled to see a cake that looks like the cartoon characters they've seen in manga or anime; the adults want to know how the heck that big cake head is staying upright! In this course, cake artist Avalon Yarnes teaches you all the secrets to making her two most popular chibi characters: a superhero and a princess. You'll learn how to build the internal structure to support the top-heavy design (it's easier than you think); how to find and modify templates that you can then use to make any character you like; how to translate a template into a 3D cake; how to shape modeling chocolate and rice cereal treats; how to build a body around armature; how to create the characters' hair and facial features; how to apply color with dry brush shading; and even how to make your cake light up! By the time you complete this course, you'll not only have two amazing cakes in your arsenal for a children's party; you'll feel comfortable designing and executing any kind of cartoon character your child or client desires.
Reviews
valentina Thayer

Just, Wow! What a fun cake. She explains why she uses certain mediums when building and putting the the cake together and she also teaches techniques that are new, well at least to me. She is not only creative, but funny, "Chillin' like a non-villian", LOL! I hope to see her teach more tutorials on CakeMade

Nona Bannon

Avalon, this class was so much fun! You did an excellent job demonstrating how to make our princess and super hero! I love the way you show how to correct any mistakes that someone might make. You are an absolute natural at teaching!

CATHY A DAVIS

Love this class! Well explained and demonstrated, learned new techniques, and love avalon! Hope to see more of her and her techniques.

Cristina Delgado

Excellent Class, Excellent Teacher.

roxana salazar

Congrats!!! great instructor !!!! thanks for sharing your tips. love the way you teach !!! I will definitely purchase your online classes so much to learn !! thanks Avalon

Diane Schmidt

Avalon - Unfortunately I am a newbie and am not even done watching this video, but had to stop in the middle to tell you that it is great. You explain absolutely everything that you are doing so well. Please please please create more videos. I loved it!

Samantha Sánchez

I love the class and I am really enjoying it but he only thing I am not happy about is that we don't get our questions answered in a timely manner.

Melita Burton

Had the best time making this cake, would love you to teach another structured cake like a doll where it's all cake the body and the head. You are amazing

doit2014maida ali

hi, i just saw the lesson, in the begning the instructor didnt explain how to cut the masonite board which was the crucial part how to handle jigsaw cutter and how to use it she didnt explain in your country these things everybody use easily but how about those who are layman, explaining verbally main things doesnt makes the tutorial different from others, u havent introduced free classes at your website explaining the basics of cake building at your website, which is missing

Vi Lieu

Great class to take up - i definitely recommend it to everyone - the cake is super cute. Information given is very useful and worth the money.

Ann-Maries Youngblood

Loved this class! I wanted to make my son's birthday cake, he asked for Robin from Team Titans Go. I was terrified! Avalon was so cute and very reassuring. So I watched this class twice to make sure I understood every aspect. While I was still terrified, I knew it was totally doable! He cam out beautifully, best of all my son was Over the Moon for his cake! Just call me Super Mom! LOL Pun intended! =)

Terry Hernandez

Avalon is a great teacher and amazing cake artist. The class was very good and showed a lot of techniques.

ola soliman

Amazing course. Avalon explains everything in great detail and simplicity. The course material also includes all information templates etc.... Also the bonus characters in great. The discount price offered is the icing on the cake as it was a bit pricey at $60. Will definitely look forward to buying more of her courses!!!

adrina C

Amazing class! Thank you Avalon for sharing!

Cynthia Gonzales

I really enjoyed the class and made a mermaid cake for my niece. Everyone loved it!

Heather McGrath

Avalon teaches SO MANY things is this course besides the obvious end result. You learn structure, how and when to use rice cereal treats, how to make modelling chocolate and ganache, why you might use them and what their best applications are. What I love about this class is learning from someone who has gone through all of the trial and error, and is sharing that experience with you. That is truly priceless. Fantastic class.

Yazmin

I totally love this class 😍 It is so good .

anne

Overall, it was a very informative course. Learned a lot of techniques especially with the cake structure. I hope Cake Made could incorporate a "fast forward" button to speed up the video because some parts or steps were repetitive.

Maria Ganoung

Very good tutorial, waiting for more

Shannon Bond

Avalon is a fantastic instructor! The knowledge and tips she gives during a class can be applied to so many designs, not just the adorable chibi cakes she showed how to recreate. I loved this class, absolutely worth every penny! Thank you Avalon!

Myranda Britton

SO SIMPLE! The breakdown of each step really made it quite simple to keep up. It was my first structure and gravity cake, and I feel like every step was thoroughly discussed and I LOVED the extra tips that are thrown in. (Using Fondant to smooth the face- how awesome!!)

odelia zikry

Awesome technics and great instructor. Will start working on the cake !

Stacey

The best class I've ever taken online! Very detailed and easy to follow.

Ngo

Thankyou so much !! I have learn so much and it was fun watching and learning at the same time, love your entertainment !!!

Anita Rivera

Great Class!! I love it!

atrisha

was an amazing experience. Initially i thought it would be very difficult to make the chibbi cakes, but the step by step procedure made it really simple. very happy with the course.

Camille Favre

This class is FAB!!! Avalon gives you all the info you need to create a Chibi character cake with easy-to-follow instructions. I changed mine a little to make a Stormtrooper from Star Wars instead of a princess or a superhero, the result was great! :-) Too bad we can't share pictures of our projects!

Jennifer Kennedy

So awesome!!! Solid structure. Easy to follow lesson.

tara

I've had this lesson for over a year and periodically watched it until I felt I was ready to take on the challenge. My kids birthday party was coming up and I just knew I wanted to make these. For a month I prepared and when the weekend came I took off 2 days to get it as perfect as I could. I substituted my own cakes and used white chocolate ganache, but the rest was followed to a T. I couldn't have been more proud of the finished product. I just want to say thank you for everything. These cakes were an absolute success with both the kids and their parents. I have to admit, I thought I would feel sad about cutting these up, but the kids just lived it and their reaction s were absolutely priceless. I would recommend this lesson it's a lot of steps and takes a lot of prep and time, but it's so worth it. AVALON IS A SUPER STAR! If you would like to see a pic of my finished product I would live to share.

Heather Crouch-Davison

awesome!!!!

Althea Shuler

Great class. I am unable to ask questions or post ictures which is somewhat annoying especially when I am having difficulty trying to complete a section. The forum button does not show up on site.

Ashanti Martyr

This course was absolutely amazing! Everything was simple and easy to follow. At no point did I feel like Avalon was talking ahead of me. She made sure to break everything down. As a result I was able to make a totally gorgeous cake. Thanks Avalon!
Lesson Plan
Lesson 1: Meet Avalon Yarnes

2:31

Meet cake artist Avalon Yarnes and learn about the tools and ingredients you'll need and the techniques you'll master while making two of her most popular chibi cakes: a Superhero Cake and a Princess Cake.

Lesson 2: Preparing the Fondant & Modeling Chocolate

8:49

Learn the best way to color fondant so you achieve the bright, bold colors that make these characters really stand out. Also in this lesson: how to make malleable modeling chocolate using pre-colored chocolate melts.

Lesson 3: Creating Templates

12:31

Discover how much easier it is to make chibi cakes — or any 3D cake — with the help of a template. In this detailed lesson, Avalon shows you how to find templates (i.e., sketches of one-dimensional characters) or create your own; how to take a template and use it as a guide to making a cake in that shape; how to customize them, laminate them, and how to use them to determine the height, width, and other dimensions of your cake structure.

Lesson 4: Preparing the Structure

20:54

Avalon walks you through all the steps involved in building the armature for your chibi cake — an important skill in creating lots of 3D cakes. Also, how to make your armature food safe.

Lesson 5: Sculpting, Carving & Icing

50:36

Master the art of sculpting rice cereal treats into the precise shapes you need for your cakes; learn Avalon's secret for getting sharp edges on icing; and watch her skillfully secure the cake to its structure.

Lesson 6: Creating Facial Features

31:48

Refer back to your templates to carve out eye sockets and a mouth for your superhero cake and princess cake. Learn how to take any drawing or template and turn it into an adorable 3D cake!

Lesson 7: Covering Faces with Fondant, Adding Facial Details

1:47:15

Avalon shows you how to seamlessly cover both characters' faces in fondant and how to add fine facial details like pupils and eyelashes. Then learn how to achieve realistic coloring with a technique known as dry brush shading, a great alternative to airbrushing.

Lesson 8: Covering the Cake Boards

8:59

A superhero and a princess deserve a regal cake board, no? Start by covering the cake boards in fondant; Avalon will share a few tricks to making this process fast and easy.

Lesson 9: Creating Bodies & Accessories

1:11:11

Time to create the body of our superhero and our princess out of modeling chocolate. Referring once again to your templates, build the superhero's body around the armature; create his superhero symbol out of wafer paper; add other details to his suit; make his cape out of modeling chocolate, and learn the secret to making him light up. Using your princess template, create her body, gown and tiara out of modeling chocolate and add pretty details to her dress.

Lesson 10: Creating Hair

38:07

Give both your superhero and your princess a glorious head of hair that you make out of modeling chocolate and a mix of fondant and modeling chocolate. Secure the tiara to the princess' head.

Lesson 11: Finishing the Cake Boards

17:26

Give the cake boards a few finishing touches — clouds for the superhero to rise above and a glittery "Happy Birthday" for the princess cake. Ta da! You did it!
Course Supplies
Downloadable Materials
Downloadable course materials include recipes, ingredients and tools lists, cake specifications, a project timetable, an ingredient conversion chart, and cake templates and outlines where needed.
Ingredient Conversion Charts
Princess & Superhero Cakes Timeline
Princess & Superhero Cakes Specifications & Recipes
Princess & Superhero Cakes Tools & Ingredients
Princess Template
Superhero Template
Princess & Superhero Bonus Projects
Princess & Superhero Cakes Course Projects
Princess Blueprint
Superhero Blueprint
Printable Template for Superhero
Printable Template for Princess
Tools
Gelatin mats
Turntable
Small offset spatula
Sharp serrated knife
Flexible chopping mats
Sifter
Fondant smoothers
Rolling pins (small and large)
X-ACTO knife
Packing tape
Scissors
Ruler
Pencil
Small wood cubes
Threaded rod, 12" tall, 1/2" diameter
1/2" diameter nuts
1/2" diameter fender washers
1/2" lock washers
Masonite cake board, 8" x 1/4" thick
Masonite cake board, 8" x 1/2" thick or premium (formaldehyde free) MDF board, 1/2" thick cut 14" x 12"
8" cake board
Scrap foam dummy, approx. 4" deep
Hot glue gun and glue sticks
"Press and Seal" plastic wrap
Plastic wrap (regular)
Bubble tea straws
Jigsaw
Table clamps
Protective eyewear
Electric drill (with 1/2" drill bit)
Pliers
Wire cutters
Acrylic paintbrushes in different sizes
Fluffy makeup brushes
Wafer paper
Bench scraper
Pastry bags
Push pin
Small spray bottle
Aluminum armature wire (or floral wire), 12 gauge (superhero only)
Tape measure
Circle cutters (superhero only)
Self-healing mat (optional)
Edible marker or non-toxic marker, black
Modeling tools
Ball tools, large
Small star cutter (optional)
Tylose powder
Coffee grinder (preferred) or food processor
Ribbon for boards, 1/2" thick
Gel food coloring (orange, soft pink, warm brown, sky blue, white (titanium dioxide)
Oil food coloring, yellow
Airbrush colors: white shimmer, fuchsia (optional)
Color dusts: gold shimmer, black, tan, dogwood, peach
8" x 2" round cake pans
Letter cutters
LED light (superhero only)
Food safe gloves
Double-sided tape
Wrench
Sand block
Paper towels
Dresden tool
Fondant roller or PVC pipe
Pastry brush
Skewers
Wilton piping tips #8, #11 and #12
6 qt. stand mixer with paddle and dough hook attachments (optional)
Ingredients
Cornstarch
Fondant (recipe included)
Modeling chocolate (recipe included)
Chocolate ganache (recipe included)
Rice cereal treats (recipe included)
Powdered sugar
Shortening
Piping gel
Extra candy melts or chocolate, approx. 6 oz. (Tip: Most bags of candy melts come in 12 - 14 oz. size; put aside extra chocolate after making your modeling chocolate)
Vodka
Dense cakes (recipe included)
Gelatin (Knox packets, NOT Jello!)
Frequently Asked Questions
When is this class offered?

Anytime you want it to be! When you purchase a CakeMade course, it is yours to keep; you can watch the lessons whenever and how often you like. If you have any questions along the way, just post them on the forum and Avalon will answer them personally.

Is this class for advanced students?

While some of the techniques may be advanced, Avalon teaches them in such a way that even a beginner can follow along.

Can I make a different princess or superhero using these techniques?

Can I make a different princess or superhero using these techniques? Absolutely! Avalon shows you how to find the perfect template for your project as well as how to take artistic liberties with it so that you can create whatever character you like.

Is every part of this cake edible?

Everything except the internal cake structure. The 3D character is achieved with the help of fondant, modeling chocolate, rice cereal treats —and cake, of course! Each cake provides about 24 servings.