What's more fun than a pinata at a party? A pinata made out of cake! Cake Challenge Champion Bronwen Weber shows you how to make a candy-filled pinata cake that will sharpen your skills in cake structure, wafer paper decorating, fondant techniques, modeling chocolate sculpting, cake carving, and much more. So have your pinata and eat it, too, with this crowd-pleaser.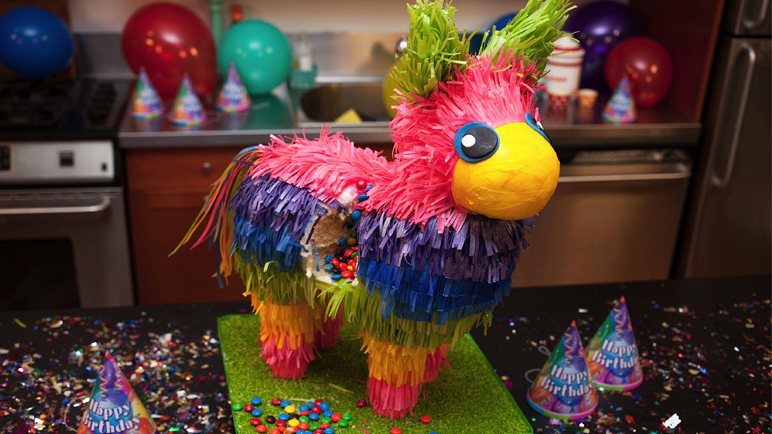 Overview
If there are two words guaranteed to make people smile, they are "pinata" and "cake." Combining them in this course means you not only learn to make this one amazing cake; you'll pick up a dozen cake decorating skills and techniques that will come in handy on all your creations. Intimidated by the idea of building internal structures for stacked and 3D cakes? Don't be! Bronwen didn't become the Food Network's all-time Cake Challenge Champion without learning a thing or two about cake structures; as the queen of the 3D novelty cake, she demystifies the process by walking you through the two kinds of structures that can be applied to almost any cake, especially animal cakes. You'll also learn how to mold modeling chocolate and sculpt rice cereal treats into whatever shape you need; how to carve cake accurately; how to cover odd angles seamlessly in fondant; how to cut and color wafer paper; how to add details like eyes and ears; and how to make a custom cake board out of a piece of wood. Along the way Bronwen shares cake decorating tips, tricks, secrets and shortcuts she's picked up during her 20-plus years in the custom cake business. Mastering this cake will not only give you a great go-to party cake, but give you the confidence to tackle other 3D cakes that require foolproof internal structures.
Reviews
Maria Mendoza

Excellent course. Excellent teacher. She makes everything look easy and fun

Rita Margolian

I loved your class and can't wait to make my first Pinata cake. I might just make one and donate it to someone special, just because. Thank you Bronwen.

Tricia Wentrcek

I have had the privilege of taking two hands-on classes with Bronwen in addition to taking several video classes. Her infectious personality, laid back style and tremendous skill come through no matter what type of class you take. This particular class is a wealth of information on structure construction and the handling of wafer paper that will translate into an infinite number of projects. No matter your skill level, Bronwen takes the crying out of cake and makes it OK to put the stress attacks at bay and just let the creativity flow.

Allison Stamm

Several weeks ago, I was browsing through online classes and discovered this one. I thought to myself, "When in the world am I ever going to need to make a piñata cake?" and moved on. Exactly 7 days ago, my landlord's daughter knocked on my door and asked if I would make her birthday cake. The theme for the party? FIESTA!!! So what did I do? I ate a little crow, then immediately purchased this course. I am an advanced cake artist, but still relatively new to cakes requiring structural supports. This class was amazing. Absolutely ALL of the leg work is done for you. The instructions are comprehensive, the materials lists were thorough, and the timeline breakdown was the icing on the cake! Of course, since this was my first time making a sculpted cake of this size (I sized it up to feed 60+ people) it took me about four 8-hour days, instead of the two 6-hour days listed on the timeline. But hey, learning curve! Next time, I could easily do this in the timeline laid out in this course. My absolute favorite thing about this course though, is Bronwen's teaching style. She is supportive, calming, and slightly ridiculous. Her periodic quips inspiring us to not panic, remind our OCD cake personalities to find the joy in what we do, and not to be too hard on ourselves. It's cake. And cake is awesome! You know what else is awesome? This class! I look forward to more from CakeMade and Bronwen Weber.

Kelly Pepperell

From the "rice crispy confetti" comment, to the "put down the knife" Bronwen had me absolutely loving this class. I have made lot's of cakes but never attempted to construct & carve a creation. Bronwen's teaching style was perfect for me & made it easy to attack this project. I loved this class, my Sister was overwhelmed with her birthday cake (she turned 40) & I actually shed a tear when it came time to cut into him. I can't wait to do another Bronwen Weber class, I only wish I could upload a photo of my finished cake as I am stoked with the result.
Lesson Plan
Lesson 1: Meet Bronwen Weber

2:32

Meet your instructor, Bronwen Weber, and learn about the tools you'll need to create a pinata cake and the skills you'll acquire while making it.

Lesson 2: Building the Structure

56:19

Learn the pros and cons of various internal support structures and about the tools needed to build them. Watch as Bronwen walks you through the top two ways of creating foolproof support systems for any kind of 3D or animal cake. You'll never be intimidated by cake structure again!

Lesson 3: Sculpting the Legs

20:58

Pick up lots of tips about working with modeling chocolate as Bronwen shows you how to sculpt the donkey's legs.

Lesson 4: Carving the Body

29:17

This cake carving lesson includes an important twist: How to leave a hole in the center for the pinata's candy, in this case delicious M&Ms! Then cover the whole body in buttercream.

Lesson 5: Molding the Head & Ears

25:06

Get the lowdown on an ingredient that's an integral part of many 3D cakes — rice cereal treats. Bronwen discusses the pros and cons of this medium before molding them into the donkey's head and ears and covering them with modeling chocolate.

Lesson 6: Covering the Pinata in Fondant

34:49

Learn Bronwen's tricks for seamlessly covering every part of your pinata in fondant (there will be no elephant skin on this donkey!).

Lesson 7: Cutting & Coloring Wafer Paper

14:37

How do you replicate a pinata's colorful paper mache exterior while keeping the cake edible? With wafer paper! Bronwen shows you how to make the paper frilly, and shares an invaluable tip for making the whole task go a lot faster!

Lesson 8: Attaching the Wafer Paper

1:10:02

Time to attach the wafer paper "hair" to the pinata. Then learn how to create and attach eyes.

Lesson 9: Decorating the Cake Board

15:17

Forget plain cake boards! Bronwen shows you how to jazz up a wood board in keeping with the pinata theme.

Lesson 10: Cutting the Cake

1:45

Our pinata cake is too pretty (and tasty!) to destroy in order to get at the candy inside. So Bronwen demonstrates how to cut the cake so that each guest gets a nice slice with a generous portion of candy.
Course Supplies
Downloadable Materials
Downloadable course materials include recipes, ingredients and tools lists, cake specifications, a project timetable, an ingredient conversion chart, and cake templates and outlines where needed.
Ingredient Conversion Charts
Pinata Party Cake Specs & Recipes
Pinata Party Cake Tools & Ingredients
Pinata Party Cake Timeline
Pinata Party Cake Templates
Tools
Vodka
14" MDF round board for base
Stacking plates with crystal columns (two 14" plates; one 6" plate; four 7-½" columns; one 9" column)
14" x 14" ¾" thick plywood for base
13" x 6" peanut-shaped ½" thick plywood board
Four 8" long, 5/16" thick threaded rods for legs
Four 6-½" long, 1" thick schedule 40 PVC pipe to cover legs
One 10" long, 5/16" thick threaded rod for neck
One 8" long, 1" thick schedule 20 PVC pipe to cover neck
Four 5/16" t-nuts
Fourteen 5/16" fender washers
Fourteen 5/16" nuts
5/16" drill bit
Drill
PVC cutter
Hammer
Coarse-toothed blade hacksaw
Vice clamps
Hot glue gun
Pliers
Wrenches
Box cutter
Wire cutters
Edible marker
Safety gloves
Paper tape
Freezer paper
Floral tape
16" poly dowel cut roughly in thirds
Nine 5/16" flanges (optional)
Spritz bottle
Spatula
Rolling pin
Chef's knife
Cooking spray
Flat wooden skewers
Pizza cutter
Clear piping gel
Paring knife
Disposable food safe gloves
Airbrush food colors (deep pink, lemon yellow, violet, leaf green, royal blue)
Dresden tool
2 pastry bags
¼", 1", and 1-½" round cookie cutters
13" x 6" peanut-shaped ½" thick cardboard cutout
Double-sided tape (optional)
Parchment piping cone
Paper scissors
Bowl for trimming
12" serrated knife
Offset spatula
Fringe scissors
Microplane
Fabric ribbon
Gel paste (blue, black and green)
Tylose powder (optional)
CMC powder (optional)
Gum tragacanth (optional)
Food grade glycerin
Airbrush gun
4" cardboard round
Plastic Easter egg mold (optional)
Dust mask (optional)
Small plastic cups (for color blending, optional)
Turntable
6" round cake pan
Four 8" round cake pans
Paintbrush (acrylic bristled art brush)
Ingredients
Fondant (recipe included)
Firm butter cakes
Modeling chocolate (recipe included)
Buttercream (recipe included)
Shredded coconut
Vegetable shortening
Cornstarch
Chocolate buttons
Rice cereal treats (recipe included)
Wafer paper
1 bag M&Ms (56 oz. size)
Frequently Asked Questions
When is this class offered?

Anytime you want it to be! When you purchase a CakeMade course, it is yours to keep; you can watch the lessons whenever and how often you like. If you have any questions along the way, just post them on the forum and Bronwen will answer them personally.

Can a beginner do this cake?

Yes. Bronwen shows you how to build this cake step-by-step so that even someone new to building a cake structure, cake carving, shaping modeling chocolate, and/or working with wafer paper can follow along.

Is this cake completely edible?

Except for the internal supports, yes. People who like rice cereal treats will be pleased to know that the donkey's head is made out of that childhood favorite. You'll want to keep the bat away from this pinata; it's too delicious to smash to smithereens!

How the heck do you cut this cake?

Ha! Don't worry: Bronwen is going to show us how to get to the candy inside and still have a nice slice of cake for everyone.