Conquer cake sculpting in the most fun way — by making Amanda's adorable hamburger cake, guaranteed to be the talk of the barbecue, pool party or birthday bash. Use the sculpting skills you learn to design your own 3D showstoppers.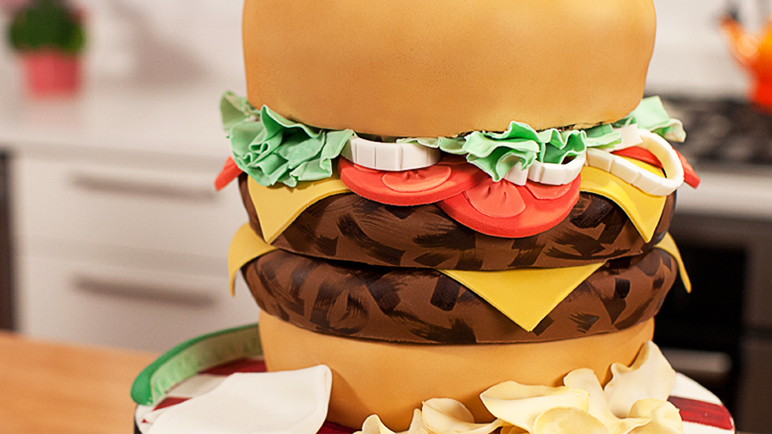 Overview
Conquer cake sculpting under the direction of custom cake designer and Food Network Cake Challenge competitor Amanda Oakleaf. You'll learn the secrets to masterfully sculpting cake into whatever shape you need. You'll also learn how to create the hidden support structures that stabilize cake stacks; how to paint and airbrush realistic color onto cake; how to seamlessly cover round cake in fondant; how to color and shape fondant into different decorative elements -- in this case, tomatoes, lettuce, onions, chips, pickles, cheese, sesame seeds and napkins; and how to make Amanda's delicious and easy-to-work-with marshmallow fondant and Italian meringue buttercream. When you're done, you'll not only have this impressive cake down pat; you'll have the sculpting skills to bring any 3D cake design to life.
Reviews
Lyn Carpenter

The tips and tricks of the trade that are explained in detail while watching the cake instructor are so valuable! The smallest details can make such a big difference in cake decorating creating a less stressful and more organized work environment! Thanks for the point by point instructions and recognizing that we beginners need to learn the most commonly used methods!

Alissa

Loved this course! Amanda shows you everything in detail and gives you all the skills, handy tips and tricks to make this yourself. Highly recommend!

Melissa Brown

This was my first tutorial purchase and definitely worth it. Amanda explains everything thoroughly. What a fun and precious cake!
Lesson Plan
Lesson 1: Introduction

2:01

Meet cake designer Amanda Oakleaf and learn about the tools and ingredients you need for a sculpted hamburger cake and the techniques you'll master to make it.

Lesson 2: Marshmallow Fondant

9:31

Learn how to make Amanda's delicious homemade marshmallow fondant.

Lesson 3: Italian Meringue Buttercream

12:47

Watch Amanda whip egg whites, boiled sugar syrup, butter, and vanilla into a tasty confection for the cake filling.

Lesson 4: Build the Cake Foundation

16:54

Time to prepare and decorate the cake board. Watch how Amanda uses fondant to create a checkered "tablecloth."

Lesson 5: Carve and Sculpt the Cakes

37:39

Learn the delicate art of sculpting cake into the form you want. For our hamburger cake, Amanda demonstrates how to gently carve cake layers until they take on the shape of a top bun, a bottom bun, and a meat patty.

Lesson 6: Create Fondant Food Garnishes

1:12:44

Make mine a deluxe! Amanda shows you how to turn fondant and sugar gum paste into realistic representations of cheese, tomatoes, onion, lettuce, pickles, chips and cheese by replicating texture, shape, and color variation.

Lesson 7: Cover the Cake in Fondant

41:48

An important part of the illusion is getting the coloring for the buns and beef patties just right. Here, we'll tackle the delicate process of creating the right colors and tones by mixing gel food coloring. Then watch as Amanda demonstrates the best way to drape and shape fondant over cake.

Lesson 8: Airbrushing and Cake Painting

18:07

Time to put the art in cake art: Learn how to paint a cake using both a paintbrush and an airbrush.

Lesson 9: Stacking and Supporting the Cake

26:46

Inside every tiered or sculpted cake is a support system. Watch as Amanda props up this cake with bubble tea straws and discusses how they stack up against the traditional dowels.

Lesson 10: Finishing Touches

16:08

It's time to assemble the chips and pickles on the checkerboard cake board and make some sesame seeds for the bun. The final touch? A white napkin made out of fondant that is beautiful alone or can be used to display a name or a message.
Course Supplies
Downloadable Materials
Downloadable course materials include recipes, ingredients and tools lists, cake specifications, a project timetable, an ingredient conversion chart, and cake templates and outlines where needed.
Ingredient Conversion Charts
Project Timeline
Tools & Ingredients
Recipes
Tools
6-quart stand mixer with all attachments
Pasta roller attachment for mixer (optional)
4-quart saucepan
Candy thermometer or non-magnetic digital stick thermometer
Rubber spatulas
Spreading spatulas (8")
Small offset spatulas (4")
Sharp serrated knife (10" - 14")
Small steak knife
Scissors and offset scissors
Ruler
Measuring spoons and cups
Heavy-duty turntable
Large bowls (some for mixing, some microwavable)
Plastic wrap
Airbrush compressor, hose and gun (optional)
Airbrush coloring in gold, warm brown and chocolate brown (optional)
Gel food coloring, 12 pack
Pizza wheel or fondant cutter
Stitcher tool
Ribbon cutter
Circle cookie cutters or biscuit cutters
Fondant smoother
Mini plastic rolling pin (9")
Large wooden rolling pin (18")
Acrylic brushes
Cornstarch shaker or grated cheese shaker
Bubble tea straws
Fondant foam pad
Hot glue gun and glue sticks
Sifter
2 (16") cardboard rounds
2 (10") cardboard rounds
2 (9") cardboard rounds
2 (10" x 3") round aluminum baking pans
4 (9" x 3") round aluminum baking pans
1 (8" x 3") round aluminum baking pan
Dry dish towels for dusting cornstarch off fondant
⅜ ribbon (optional)
Ingredients
Sturdy butter cakes (recipe included)
White fondant (recipe included)
Gum paste (recipe included)
Buttercream (recipe included)
Royal icing (recipe included)
Cornstarch
Vegetable shortening
Frequently Asked Questions
When is this class offered?

Anytime you want it to be! When you purchase a CakeMade course, it is yours to keep; you can watch the lessons whenever and how often you like. If you have any questions along the way, just post them on the forum and Amanda will answer them personally.

Can a beginner make this cake?

Absolutely! Amanda is going to walk you through every technique involved in making this cake, with a special emphasis on cake sculpting.

Is every part of this cake edible?

Yes! In fact, a primary principle of Amanda's cake business is that her cakes must taste as extraordinary as they look. That's why instead of plain fondant she uses a marshmallow fondant recipe that she developed to meet the expectations of her exacting clientele.

Are any recipes included?

Yes. You will get recipes for Amanda's marshmallow fondant, Italian meringue buttercream, and gum paste, plus a recipe for a butter cake sturdy enough to support all the layers of this amazing cake.